In today's The Order:
Sign up to our weekly newsletter discovering new names & opportunities and inspiring the Creators economy. It also has memes, of course.
Processing your application Please check your inbox and click the link to confirm your subscription There was an error sending the email
---
New name
Ufuoma Essi: Is My Living in Vain

On October 5, 2022, Gasworks presented a new film by the London-based director and artist Ufuoma Essi. Her movie, Is My Living in Vain, raises the issues of black feminists. Essi extensive uses archival footage, interspersing it with heterogeneous materials, including homemade VHS cassettes, YouTube clips and analogue 16mm films. The movie reflects the Black Church's liberating potential as it gives community members a sense of belonging. In addition, the film examines the emancipatory potential of churches as spaces of 'infrapolitics' by exploring the sonic, political, spiritual and existential connections between specific communities across West Philadephia and South East London.

Ufuoma Essi is a filmmaker and artist from Lewisham, south-east London. In 2020, she was selected for Bloomberg New Contemporaries. Participated in screenings and exhibitions, including the Berwick Film and Media Arts Festival.
---
Radar: new names, projects, possibilities
✨ Watch the exhibition of advertisers' art rethinking the consequences of the 2008 financial crisis.
👾 Listen to Arctic Monkeys' freshly released album, The Car.
👩🏾‍🎨 See Edith-Russ-Haus' project Black Dogs and Red Forests about the destructive relations between man and nature.
🔥 Open call for artists from Art View Foundation.
---
First steps
How George R.R. Martin became the author of the most famous epic series of the XXI century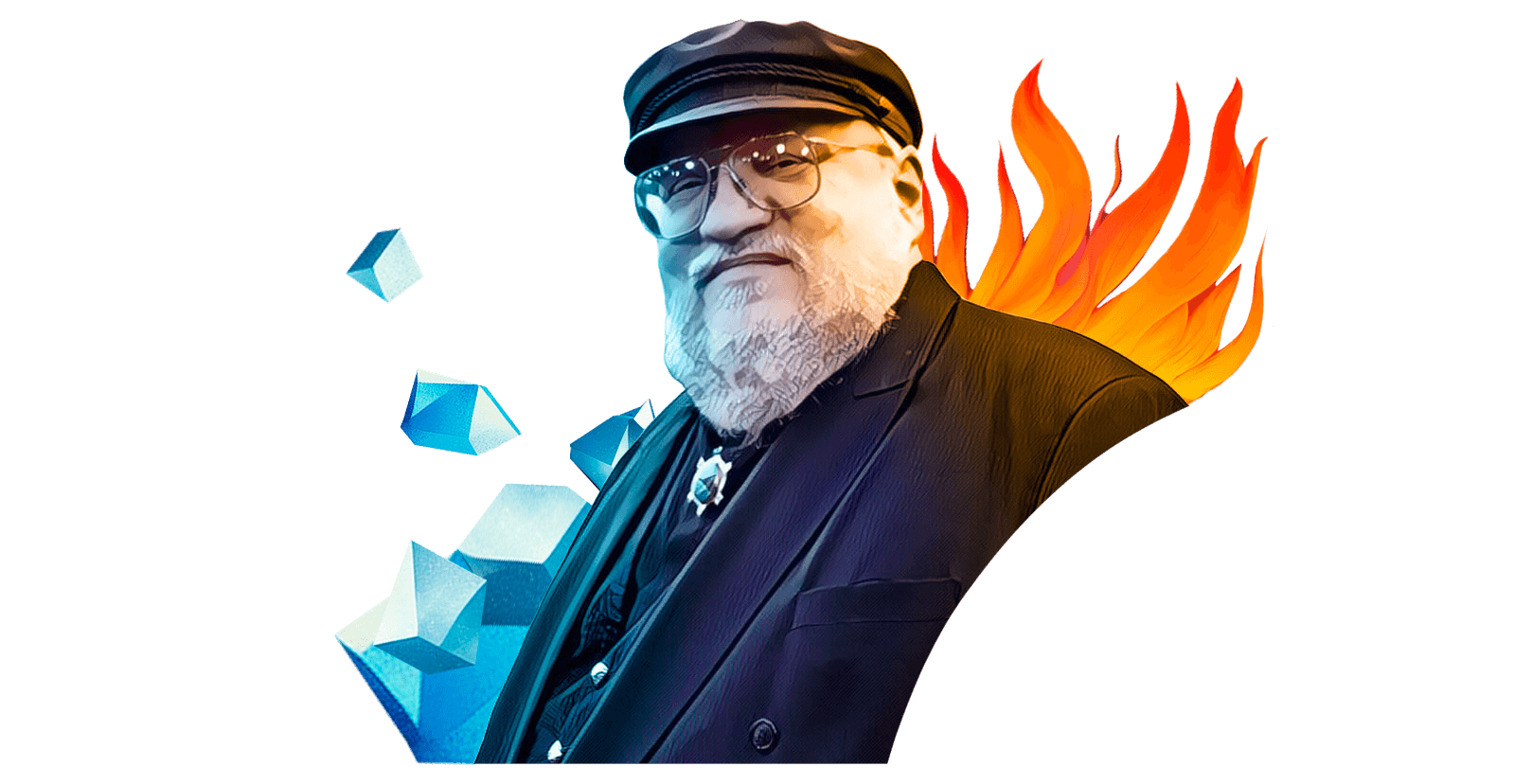 On October 23 the last episode of the series House of the Dragon will be aired. It is based on George R.R. Martin's universe, a prequel to Game of Thrones. Today, we will tell you about the first creative steps of the author.
Comics and pennies
George R.R. Martin was born in 1948 in Bayonne, a small port city in New Jersey. He grew up in the family of longshoreman Raymond Collins Martin and his wife, Margaret Brady Martin.

Martin has had a love for fantasy worlds since childhood. He was an avid collector of comic books about the "silver age" superheroes" and could spend hours reading them.
He started inventing his fantasy worlds in elementary school. George would even sell stories about monsters to other children for pennies. Then, in high school, he started writing superhero stories for fan magazines. He became interested in science fiction and fantasy after discovering comics in his youth and realizing that books don't have to be boring. Around that time, he discovered Tolkien. He said the professor's worlds amazed and significantly impacted him.
Martin attended the school of journalism at the Northwestern University of Illinois. As a student, he continued to write short stories.
In the early 1970s, he began writing science fiction stories. His creative path wasn't easy. All the publishers rejected him he applied to, 42 of them in total. But it didn't stop Martin from stubbornly continuing to write - he never lost heart and treated failures with irony. A few years later, when Martin was 21, he received the first award nomination from several Hugo Awards and Nebula Awards for his story With the Coming of the Fog. The story didn't win, but Martin didn't mind it. In 1973, it was published in Analog magazine. He continued to write, refused to participate in the Vietnam War for moral reasons, and did alternative service with Volunteers in the Service of America, where he worked as a chess tournaments director and a journalism teacher.
Losers Club
In 1976, Martin and his friend Gardner Dozois, organized the Hugo Losers Club for the World Science Fiction Congress Worldcon. There, writers who did not receive the award and their friends could share their experiences. In subsequent years, the Hugo Losers Party also became an annual event, turning into one of the largest public meetings held at the annual Worldcon, while simultaneously adopting the more politically correct name of Post-Hugo Nominees Reception.
Most of Martin's early works never became widely known. He mainly wrote science fiction set in a vaguely defined future, informally known as 'A Thousand Worlds' or 'The World of People.' Writing did not fully provide, so the author had to combine creativity with teaching.
However, in 1979 he devoted himself entirely to writing. He published his first debut, the space opera The Dying of the Light and the historical tale about vampires, The Dream of Fevre. In the 80's, Martin moved to Hollywood and started working in television. As a story editor and producer, he has worked on Hollywood TV shows, including The Twilight Zone and the CBS series Beauty and the Beast. In 1987, a movie inspired by Martin's novella Night Flyers was released nationally.
The author succeeded in TV and still kept dreaming of his epic fantasy. In an interview for The Guardian, he said: "After Tolkien, a dark period came in the history of epic fantasy when many terrible imitations of Tolkien appeared. I didn't want to be associated with those books that I thought were just imitating Tolkien's worst things and didn't capture anything great."
Despite his doubts, he started working on what would later be called A Song of Ice and Fire. Martin admitted that the first chapter of Game of Thrones came to him "out of nowhere."
"When I started, I didn't know what the hell I had. I thought it might be a short story; it was just this chapter where they find these direwolf cubs. Then I started to study these families, and the world started to come alive. All this was in my head, I couldn't help but write. So it wasn't a completely rational decision, but writers aren't completely rational beings," Martin said.
Ice and fire
Martin was interested in history and said Game of Thrones was inspired by stories about the Wars of the Roses: "My model for this was the four-volume history of the Plantagenets, written by Thomas B. Costain in the 50's. This is an old-fashioned story: he is interested not so much in analyzing socio-economic trends or cultural shifts, as wars, dating, murders, conspiracies, betrayals and all the piquant things. Costain did a wonderful job on the Plantagenets, so I tried to do the same for the Targaryens."
When writing the story, Martin had multiple tables that helped him keep track of all his storylines and characters. At times, he would spend all day writing non-stop. He recalled the story of how he could pour himself a morning coffee, start working and get back to his senses many hours later when the coffee was already cold and it was already evening.
The first novel in the series, A Song of Ice and Fire, was published in 1996. The world that Martin created began to gain its first fans. The real success came to him in 2005, when the fifth part of his epic became the No. 1 bestseller according to The New York Times and took first place in The Wall Street Journal bestseller list. Martin did not expect his worlds to immerse themselves in so many ideas.
In 2007, HBO bought the rights to A Song of Ice and Fire and shot the Game of Thrones series. The pilot episode was released in 2011 and spawned a whole cult and gathered millions of fans of this universe worldwide.
---
Tools

Quentin Tarantino is one of the best storytellers in the world of cinema. His scripts are separate literary works. In 2021, a book based on his movie Once Upon a Time in Hollywood became a bestseller. Today, we share with you some thoughts he shared with authors throughout his career.
1. Think over as many various ideas as you can before creating something
It's like falling in love. You flirt and date many different people, but then you meet the right one. The ideas that suit you are the ones you love so much that you would kill for someone else writing them.
2. If your writing doesn't work for some reason, put it away for a while. Then, when you're back at it, take the best parts and write a new story.
"I'm a big proponent of putting ideas off for a while. Sometimes, with age and new life experience, you can crack this specification that never worked out for you. And sometimes you can cut scenes and use them for other ideas," - the director once said.
3. Make sure your story is plausible.
Logic is fundamental to your film. You build the world and set the rules, but if you break them, you destroy the logic of your story. So make sure you set boundaries within the story. Then work on them to surprise people.
4. Let your characters live. Discover them as you write them.
Spend time with your characters. Get to know them for real. You need to understand their thoughts and feelings to make them seem real.
5. Create a detailed backstory of the character, but keep everything private from the audience. Let the audience fill in the blanks.
Developing your characters is very important. Their motives should be clear so that you understand their reasons for everything. But you can put only some of it on the screen.
6. If the scene works, keep it going - even if it is 40 pages long.
There are many rules in writing scripts, all of which are bullshit. People want the scenes to work. They don't care about the length or the number of characters. They want to be entertained. Don't hesitate to write your scenes out.
7. Keep your text fresh: always start it from scratch as if this is your first script.
Challenge yourself. If you're good at writing one thing, try something new. Keep honing your skills. Put blood and sweat into your writing. The best ideas and scenes are born in the struggle. They come from your desire to be the best.It's hard to take up a blank sheet of paper and start from scratch every time. But it's much more helpful to write your own stories. This is the only way to save your voice.
---
Visual of the day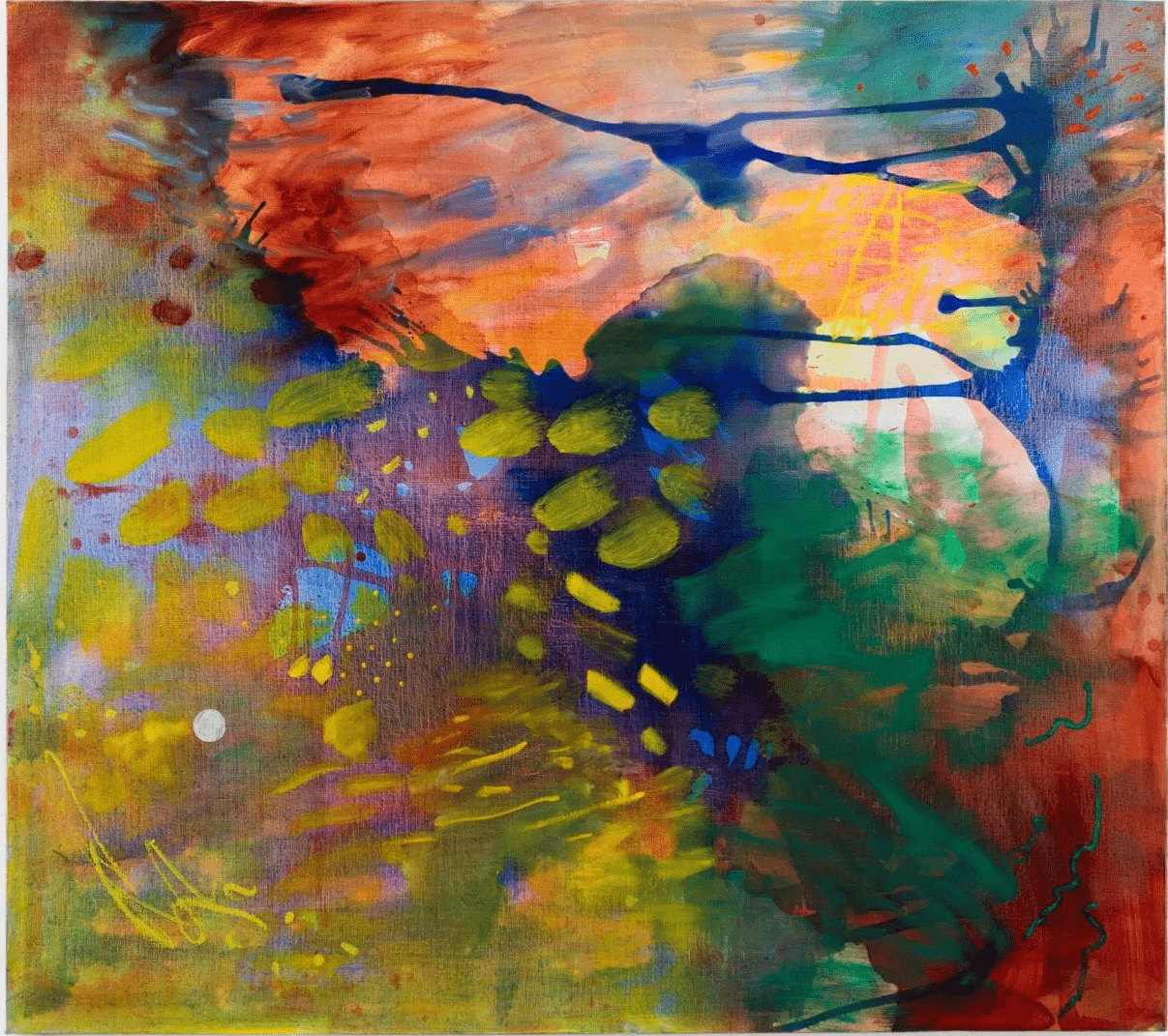 Emma McIntyre is a young abstract artist from New Zealand. Her works are dedicated to memories and the surroundings. The author reflects on these problems and immerses the viewer in another dimension.
---
Meme of the week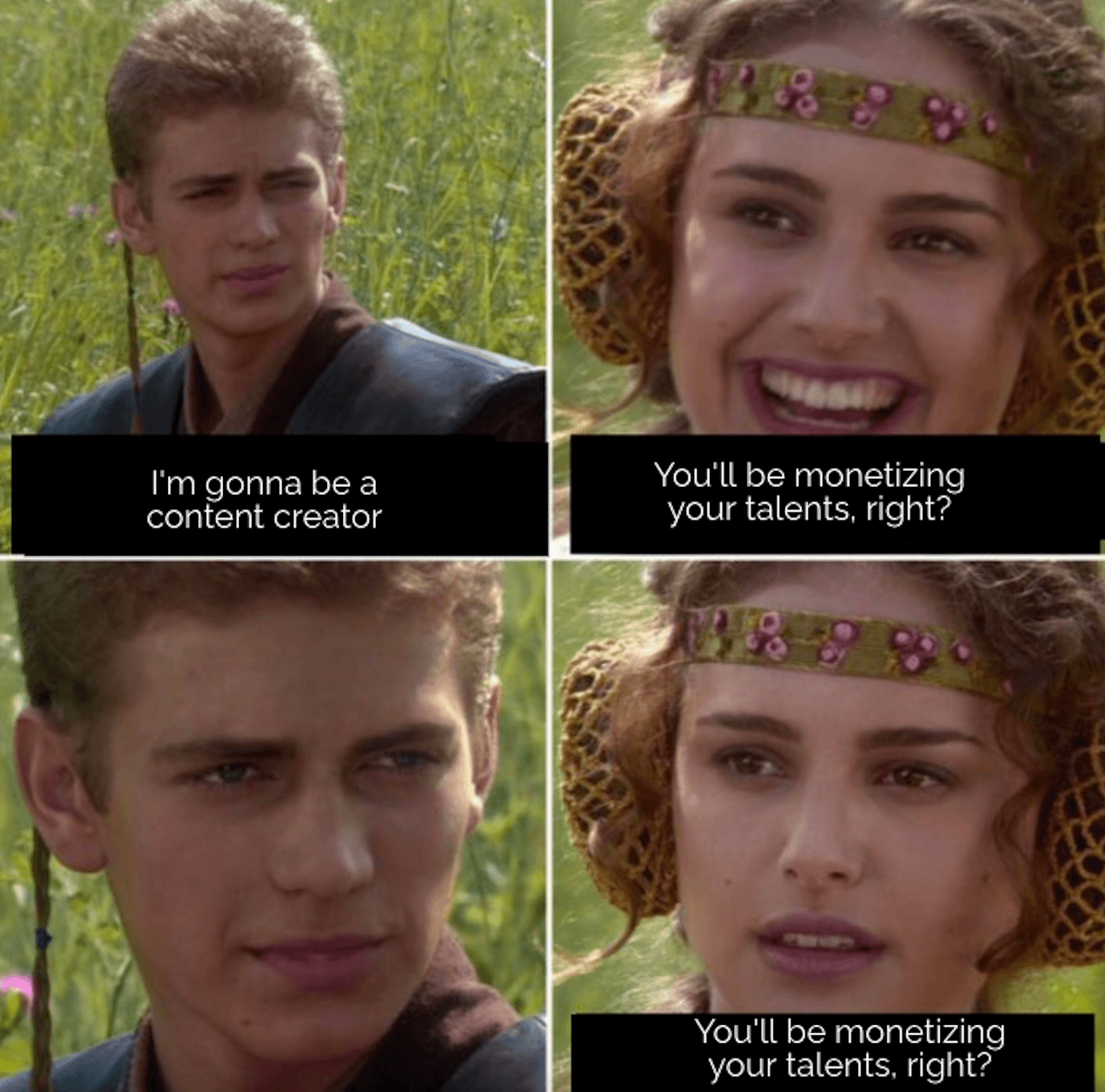 ---
Creative warm-up
🧠
It's a short exercise to help you get creative and stretch your artistic muscles.
Imagine you've found yourself in a time loop. Now, all days are exactly like one another (yes, classical groundhog day), and you remember all your previous days. So how will you spend your time (not necessarily wisely!)? What will you do on the 10th, 30th, 90th, 180th and 360th days?
You can send it to us and get feedback, keep it to yourself, or share it with friends - as you wish.
Until next week!
---
Your creative self starts in your inbox
Sign up to our weekly newsletter discovering new names & opportunities and inspiring the Creators economy. It also has memes, of course.
Processing your application Please check your inbox and click the link to confirm your subscription There was an error sending the email
---
Today's newsletter is brought by Alexey Shumkin,  Mariya Amrayeva, Alyona Belyakova, Egor Mostovshikov, Artem Shur and Midjourney